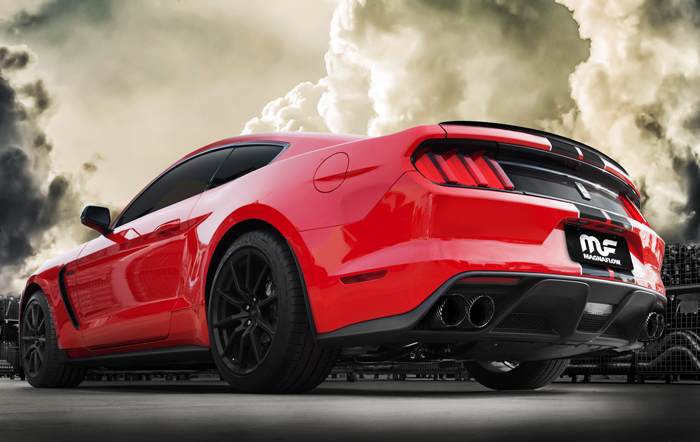 Add Potency to your Automotive Antidepressant
The 2015 Mustang made a huge splash in the market when it came out. The integration of independent rear suspension as well as a brand new engine option in the form of the surprisingly potent 2.3L EcoBoost meant that your 'Stang was no longer relegated only to the drag strip. Now it was capable of embarrassing much more expensive cars on the road course too! That said, a stock Mustang is still a stock Mustang and Ford left plenty of room for customization and improvement. Here is our take on the 10 best ways to make your Mustang way more fun!
1. Tires
The first mod that ust about anybody should make to a performance car is tires. Tires will always make the biggest difference in how your vehicle rides and handles. The stock tires on the Mustang (with the exception of the exotic sticky rubber on the Shelby cars) leaves much to be desired. For the Spring and Summer we recommend the Michelin Pilot Super Sport. These tires are almost too good. They're grippy and yet hard wearing. They work well in both dry and wet. They ride great without being squirmy or squishy. For the winter, we recommend Bridgestone Blizzaks. These things let you go places in a rear wheel drive car without chains that simply boggles the mind. They work great, feel great and won't kill your wallet.
2. Wheels
The next mod, often made at the same time as tires would be wheels. There are an almost unlimited supply of wheels to choose from but be warned, they're not all created equal. We're big fans of the FlowForm series from HRE. You're probably thinking that HRE's are way outside your budget right? Well, their FlowForm series are ultra high quality cast wheels that feature HRE's legendary design and manage to be strong as well as light for under $3000 a set. No, they're not cheap but they're less expensive than replacing your cheap wheels when they bend or break or your whole car when those same cheap wheels bend or break mid-corner! We love the FF15 model (http://www.hrewheels.com/wheels/hre-flowform/ff15), it looks incredible with the sleek lines of the new Mustang.
3. Exhaust
Who wants to have the quietest Mustang? Nobody. That said, nobody who drives their car everyday wants the loudest Mustang either. MagnaFlow offers a variety of high quality, American-made cat-back systems for each of the available engine configurations. For you V8 fans out there we recommend the dual-outlet 3" stainless Competition Series system (http://www.magnaflow.com/products?partNumber=19101). This is going to give you plenty of epic Coyote engine growl without making you hate your life on long freeway trips.
 4. Sway Bars
Few suspension mods offer as much bang for the buck as a new set of sway bars. A good set up upgraded sway bars will make your Mustang corner much flatter, feel more planted and will do it without making your ride harsher. We like the set from Ford Racing. They make a big difference in ride and won''t break the bank, plus you know they're going to fit like a dream.
(http://www.steeda.com/ford-racing-mustang-performance-sway-bar-kit-2015-gt-161-m-5490-e/)
 5. Brake Pads
The factory brakes on the more performance oriented Mustangs are pretty decent until you really start pushing them on the track or even in a spirited canyon drive. That said, you don't want to go with something designed just for the track either as that will leave you with an unsafe situation when the brakes are cold. One of our favorite brake compounds comes from the Hawk. Their HPS pads work great in just about any situation and you'll really notice the increased stopping power. http://fulltiltboogieracing.com/2015_S550_Brake_parts.htm
 6. Intake
One of the easiest performance mods to make is to change your factory intake. K&N has been the leading name in performance filters and intake systems for a very long time and we love their Typhoon series of intakes for the S550 Mustang GT (http://www.knfilters.com/search/product.aspx?prod=69-3535TP). This kit will give you an induction noise to die for and almost 20 extra horsepower to boot. At under $400, it's kind of a no-brainer.
7. Short Shifter
Of all the points of contact between the driver and his car, one of the most frequently used is the shifter on a manual transmission-equipped vehicle. Ford didn't do a terrible job on the stock unit but there is definitely room for improvement which is where legendary Ford tuner Steeda steps in. Their Tri-Ax race short throw shifter is a thing of beauty. Not only will it reduce the shift throw by 30% over stock, but it situates the knob a full inch lower than the factory unit for more pleasing shifts. It works with the factory reverse lockout, stock shift knob and backup camera too so there is no sacrifice when making the switch. (http://www.steeda.com/steeda-s550-mustang-gt-mt-82-tri-ax-race-short-throw-shifter-15-16-gt-555-7317/)
8. Limited Slip Differential
Swapping the differential out on your new car sounds like a big job, but it's not as bad as it seems and the benefits you get from a LSD are incredible. It turns your Mustang from being a competent handler into being a real weapon on the track or in the canyons. We can't recommend this upgrade highly enough! (http://www.cjponyparts.com/ford-racing-differential-torsen-34-spline-8-8-2015-2017/p/M4204MT/)
9. Coilovers
Coilovers are another big upgrade but not only will a quality set of coilovers improve your handling and let you set your ride height easily, they'll usually improve the quality of your ride too thanks to their more sophisticated damping. When it comes to coilovers for sports cars, KW Suspension from Germany is pretty much the biggest and best brand around. We love their V1 coilovers for the S550 because of their adjustability and durability. These things are totally rebuildable and will likely outlast your car! (http://www.americanmuscle.com/kws-v1-coilover-2015.html)
 10. Splitter
Everyone knows that a front splitter makes your car look super cool, you know, because race car. For many splitters from many companies, that's where it stops. Not APR though. Their aero pieces are designed with function in mind and their carbon splitter for the S550 actually works. It will help increase front traction at speed in your Mustang and because its made from a carbon fiber honeycomb, it weighs practically nothing. Come on, you owe yourself a little carbon! (http://www.steeda.com/apr-performance-mustang-w-performance-pack-front-wind-splitter-2015-apr-cw-201510/)