MagnaFlow's 10 Favorite Off-Road Rides from SEMA 2016
One of the best things about SEMA is the fact that with every year and every show, the vehicles on display get more and more awesome and diverse. For a long time, SEMA was about hot rods and muscle cars and the speed parts associated with them, but now we see a ton of off-road vendors and their builds get us really excited. Here is a list of our 10 favorite MagnaFlow-equipped off-road vehicles from SEMA 2016.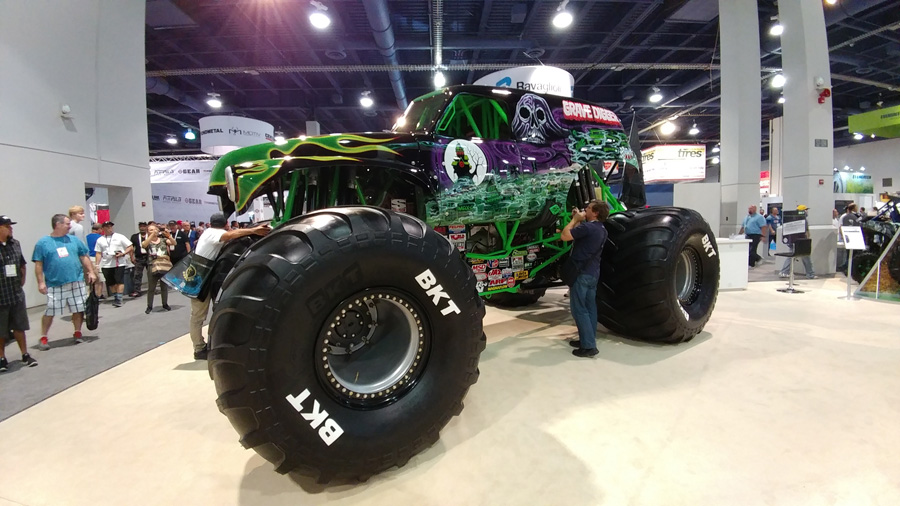 Grave Digger:
What could be more off-road than driving over other cars? We don't care what anyone says, monster trucks are awesome and there is no cooler monster truck than Grave Digger. This behemoth has been jumping through our dreams since we were kids and seeing it at SEMA along with its legendary driver Dennis Anderson was incredible. Grave Digger is packing a huge 540 cubic inch engine and nearly 1500 horsepower, not to mention exhaust components from yours truly.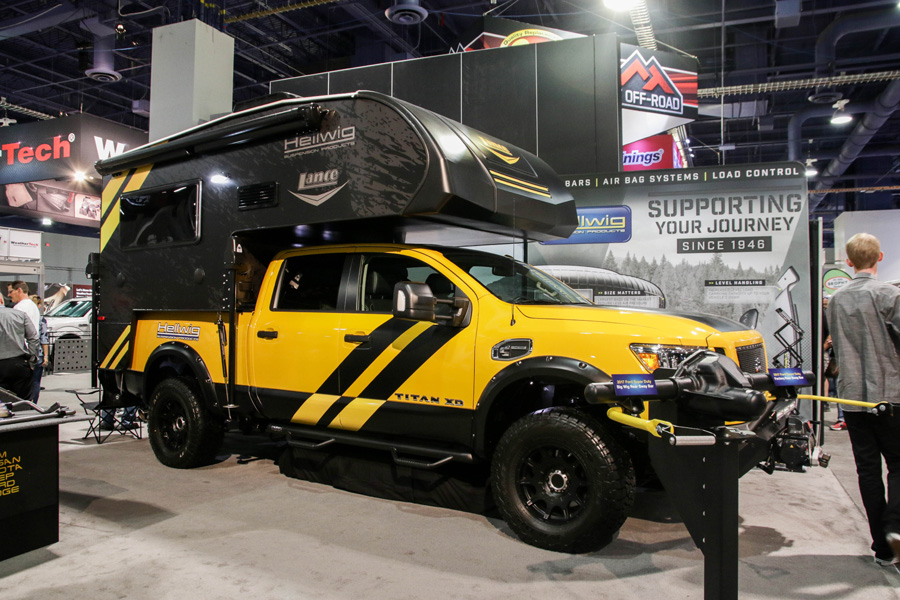 Hellwig Titan XD:
Overlanding is big right now and for good reason, the rigs are awesome looking. One of the most awesome overlanding builds was in the Hellwig booth in the upper South hall. This V8 Cummins diesel-powered Nissan Titan XD featured a whole complement of Hellwig's famous suspension products along with a custom built Lance camper and MagnaFlow DPF-back system. They even had a journalist from Car and Driver sleep overnight at the show in their booth. Undeniably awesome.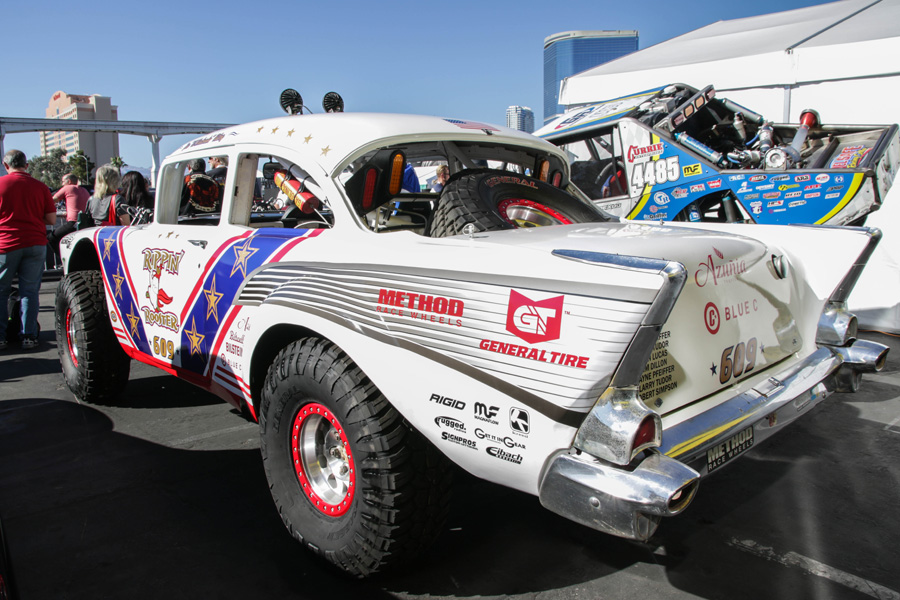 Rippin' Rooster:
What could be cooler than a Tri-5 Chevy built to go baja racing? Nothing. That's what. The Rippin Rooster is always a favorite of the crowds wherever it goes and the old bird is definitely not just all looks. The "Rippin" part of its name is accurate. This car rips through the desert like a trophy truck. After some setbacks during the 2015 NORRA Mexican 1000 (a Baja 1000 for vintage rides), Jim Riley rebuilt the car and we were thrilled to see it looking amazing at the show this year.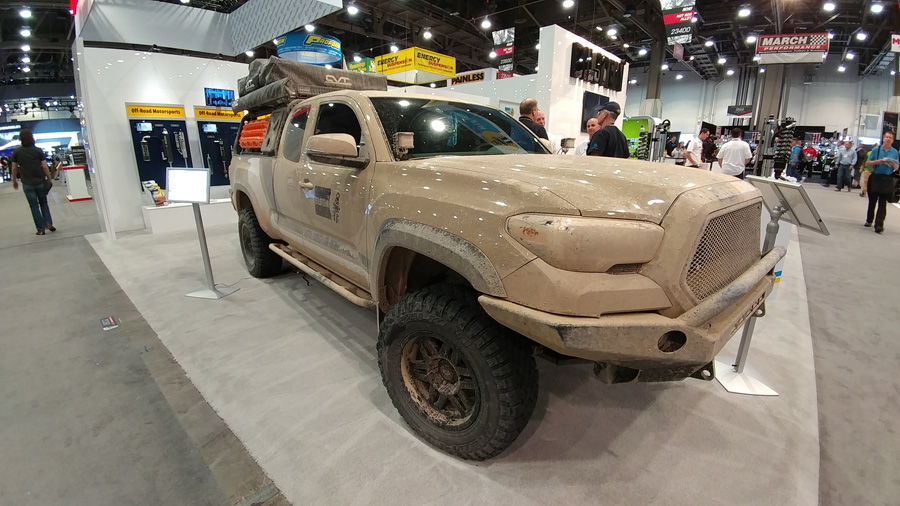 Bilstein Tacoma:
If you wandered by the Bilstein booth in the Central hall, you no doubt saw the awesome Bilstein Toyota Tacoma that was displayed proudly there. This truck is awesome, in addition to a full selection of Bilstein's epic off-road shocks, this thing was fully ready to blast through the desert outside Vegas and that's exactly what it did. The Bilstein crew drove this thing from their San Diego facility all the way to the show. Considering that many vehicles on display at the show arrive in trailers and some aren't even finished, this is a huge accomplishment.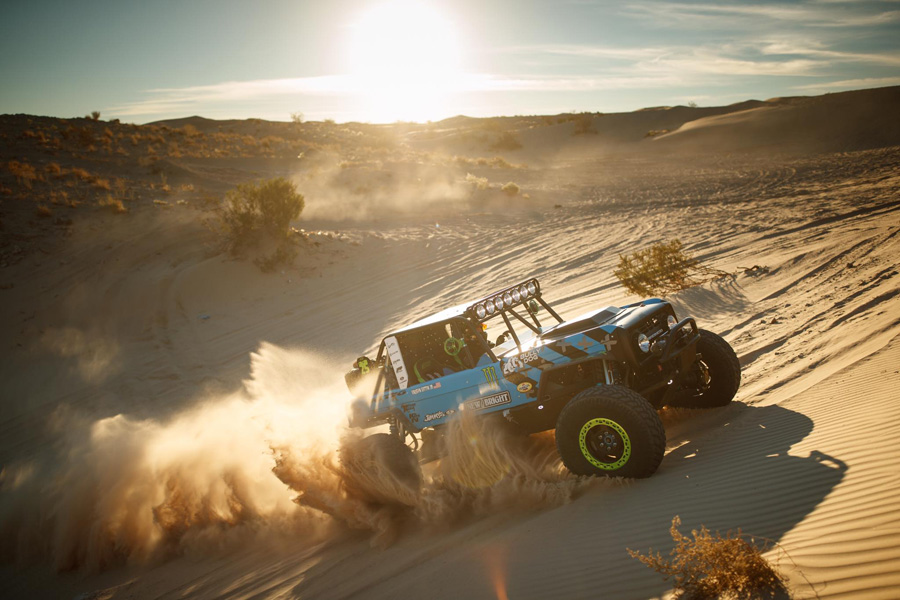 Vaughn Gittin' Jr's "Brocky" King of the Hammers Rig:
As you probably know, we love Vaughn Gittin Jr. So much so that we made him one of our MagnaFlow brand ambassadors. You guys know him from drifting but he's a man of many hobbies and this year he unveiled one of his newest toys, #Brocky. This vintage Bronco was built up as an Ultra4 racer and will compete in January at the King of the Hammers in Johnson Valley. #Brocky is running a Jimmy's 4×4 4500-IFS chassis, a Ford Performance Z427 crate engine, King shocks and of course a MagnaFlow custom exhaust system. This thing is going to be amazing roaring around at King of the Hammers and we can't wait to see it there.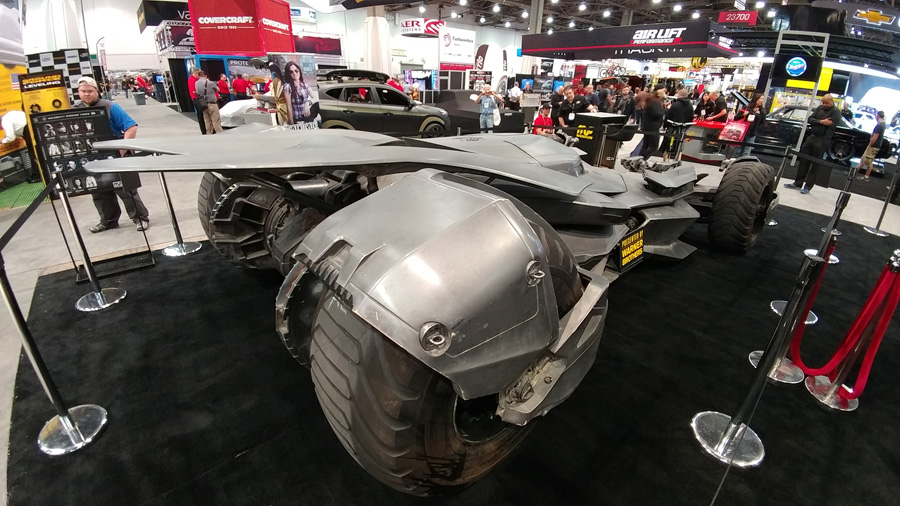 Batmobile:
We had one of the world's gnarliest off-road vehicles ever at the MagnaFlow booth this year, the Batmobile. What's that? Doubting its prowess off of the tarmac? Well, one look at the tires on that thing and the suspension travel should let you know that it's a real beast. Or, it would be if it weren't mostly made of fiberglass and not the cool kind but the kind that shatters if you look askance at it. Still, we were super excited to have this rig in our booth this year and it seemed to be a huge hit with the crowds.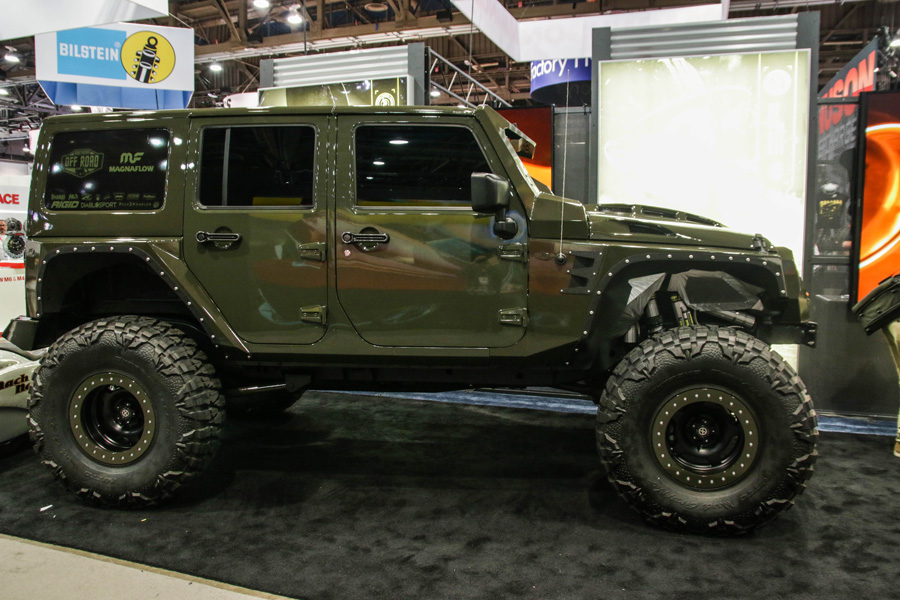 Southern Off-Road Green JK:
The Southern Off-Road built JK Jeep we had in our booth was also pretty epic. This rig is super handsome and performs even better than it looks thanks to those rather sizable tires and a substantial lift. The guys at Southern Off-Road are putting out some of the cleanest truck and Jeep builds in the country and we were thrilled to have their rig in our booth. Thanks to the owner of the truck Noah Galloway for letting us display it!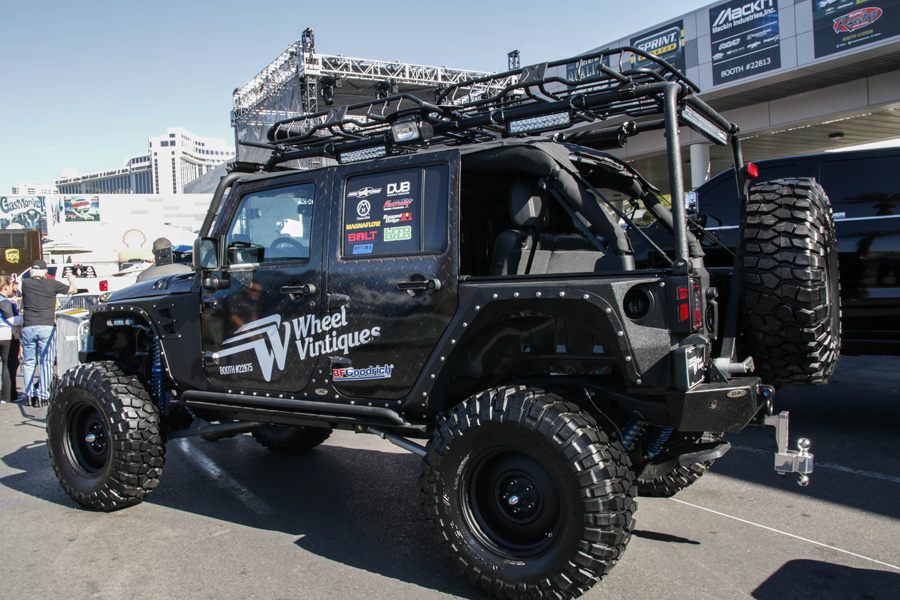 Wheel Vintiques JK:
The Jeep JK from Wheel Vintiques is another great example of what versatile platforms Jeeps can be. This rig has a whole host of bolt on parts from companies like Smittybilt and Rugged Ridge as well as an exhaust system by us. The real highlight on this JK for us is the wheels which should come as no surprise considering who built the truck. The wheels on this Jeep are a new design from Wheel Vintiques and they're super understated and classy. They also look incredibly tough. We might need a set of these for our next JK project!
Reach Out WorldWide F-150:
When we lost Paul Walker, the car culture as a whole seemed to mourn his passing. While he was a lot of things, chief among them were a true enthusiast and a real humanitarian. We are big fans of his charity Reach Out Worldwide and so when we saw this F-150 rescue vehicle, we were thrilled. This thing was definitely not the most hardcore rig at SEMA, but it did feature a ton of thoughtful modifications and great stylistic choices. Add in the fact that it was built with charity in mind and we have to give it two thumbs up.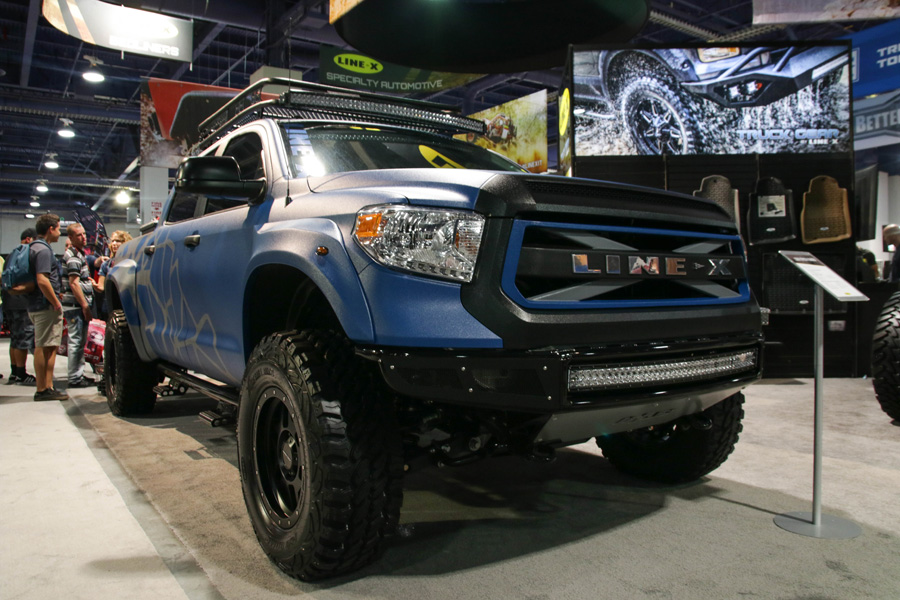 Line-X Tundra:
Anyone who knows anything about off-roading knows that it's tough on your truck's body and paint. Luckily, the hardcore among us have some options when it comes to not having to worry about that and among the best is Line-X. Known mostly for their spray-in bed liners, these guys have really elevated their tech and now regularly coat whole vehicles as was the case for their epic Toyota Tundra. This thing looks totally bombproof and mean and we'd love to drive it. The truck was built by Kenny Pfitzer, who along with his team, custom fabricated a ton of the vehicle's cooler bits. Next time we built a trail beater, we're definitely giving Line-X a call!